The 10 best vacancy tips to recruit a new volunteer
Do you recognize this? You open a vacancy bank, read and after 10 seconds you are so dazed by the extensive job requirements, jargon, expectations and promises that you can't (or don't want to) find the 'reply' button at all.
There are more than 22,000 open vacancies in the volunteer sector – even more important that you get potential volunteers curious and motivated to contact you. How do you avoid scaring off new volunteers? Avoiding itchy words, jargon and function will go a long way.
Reading time: 6 minutes
Labor market competition times ten
As a passionate volunteer matchmaker, we see thousands of volunteer vacancies/questions popping up every day. Literally: because there are currently more than 10,000 volunteer activities live. If you're looking for a helping hand (or other nicely expressed body parts like a thinking brain or warm heart), get your chest wet.
So you would expect that the creativity in recruiting volunteers would blow your mind. How else are you going to stand out while scrolling through the vacancies? Or hold the reader's attention for more than 3 seconds? Otherwise you won't even get the chance to tell us in what an impressive way you make the world a little more beautiful…
But no - not really. Scrolling through the questions on NLvoorelkaar you quickly come to the conclusion that creativity is hard to find. Creativity is, incidentally, asked more than 1,200 times, perhaps not so surprising that it is now a bit lacking ;-).
In addition to missing creativity, some texts seem almost aimed at not finding a new volunteer. Generic texts and vacancy number, jargon that almost makes you feel like an elderly person and minimal participations that require you to have no work or no social life. Personality profile requirements list aimed at the perfect person - who does not exist and where you therefore scare the normal person with his own life and shortcomings. Shame. Because the purpose of a volunteer vacancy is precisely to get in touch with each other. And then figure out together whether you can do something beautiful for each other.
We have collected the 10 best tips for anyone who has ever looked for volunteers through a volunteer vacancy. How do you stand out in a positive way among all those thousands of others? How do you find new volunteers for that breath of fresh air? Read on and let us know your tips!
Provide a concise, curious title that will make readers want to read on. The title is very often all that a job board or search engine shows. Our favourite: 'wanted harketing manager' or 'wanted Inbus driver' (source: Gamma voor NLdoet).
The same applies to the photo. Yes, a logo is nice and simple and clear, but also nice and boring. So dare to go for something personal, funny or unique. Like this lady, who gets a lot more reactions with her great photo.
A positive way to stand out is with humor. Think of the 'Harketing manager' instead of a gardener for your client. Or describe the activities with a wink, for example 'Do you consume more videos than food? Prefer to get your gram on Insta? Or do you find this too much in your face(book)? But if we still have your attention then this might be for you' ( Dedicon )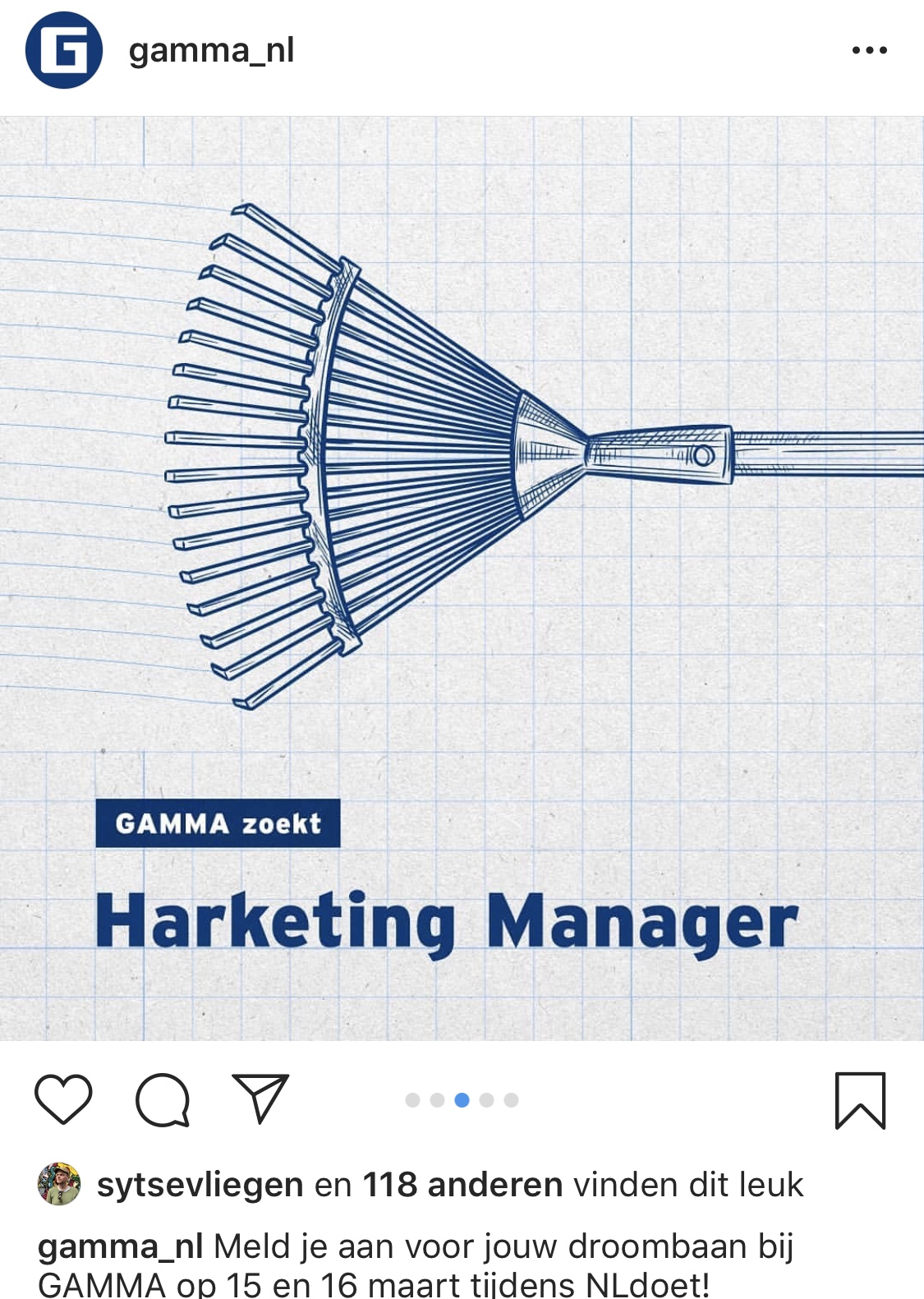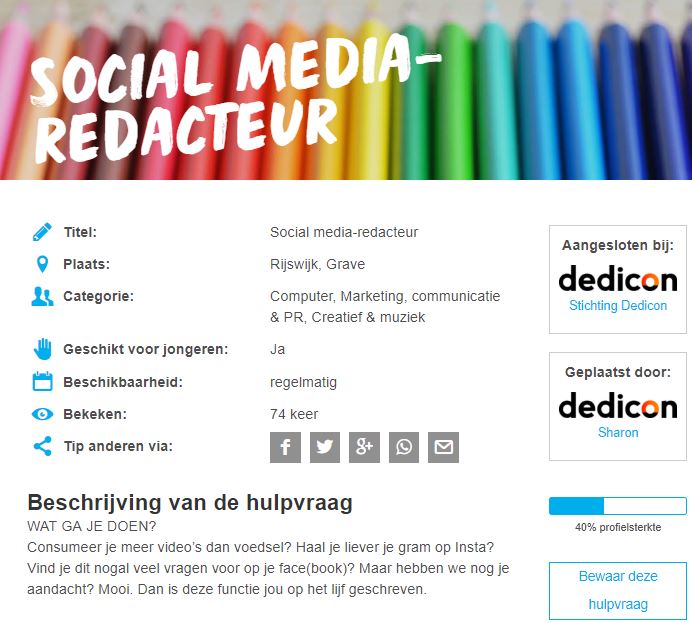 Are you also looking for a flexible, enterprising, enthusiastic and communicative volunteer full of passion? Oops – with you about 10,311 (really!) others. So you don't distinguish yourself with that.
And have you ever wondered what that does to the reader – the potential volunteer? With the word flexible in a regular vacancy text, everyone knows that the employer means overtime. I have never encountered a person who is not communicative with skills (we can all talk and gesture), we prefer to do business with a financial reward and passion is better kept for the bedroom. You can read more words that you would rather not use in your volunteer vacancy here .
Prevent itching. Explain clearly and clearly what you expect from others. Easiest trick for that: Pretend you're talking to a friend or family member!
This one is similar to the previous one: do you have an affinity with clients with a moderate intellectual disability? Or do you have more with a mild intellectual disability? Vascular dementia? An Autism Spectrum Disorder or Experience with Benzodiazepine Tapering? Just a few of the jargon of the volunteer vacancies that are now live.
Even with my master's degree in psychology, I tend to click away screaming and enjoy .. something else, whatever. I already have a job, no time for scary illnesses (or looking up what this jargon actually means).
Golden tip: keep it simple. And above all, human. Not a client, patient with a difficult illness or Mrs. P is looking for a free driver or gardener, but someone's grandfather/Ana who loves cards so much but can't roll over to her friend/Liv who speaks Dutch almost fluently within 2 years/ becomes very happy when help you for a while/once with … (fill in). Good examples are Stichting Jarige Job and the VoorleesExpress.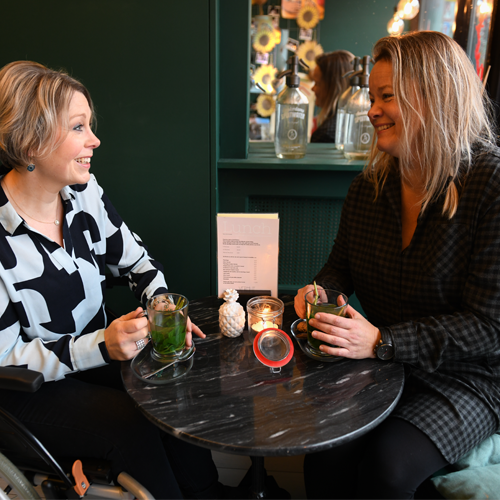 The mission (or impact – sorry for this itchy word) is often missing. What do you sacrifice a volunteer's precious free time for? Seems like a clincher but is forgotten in more than half of all lyrics!
Put the mission/impact -short- at the top of your text. People simply read from top to bottom and often the first few lines of a volunteer job vacancy are shown in the search results (on Google, NLvoorelkaar etc). In addition to a statement (eg: together we ensure that every child can feel their birthday) you can also think of impressive results (eg: 10,000 people have already been helped). Or keep it small with a nice quote what the help has meant to someone.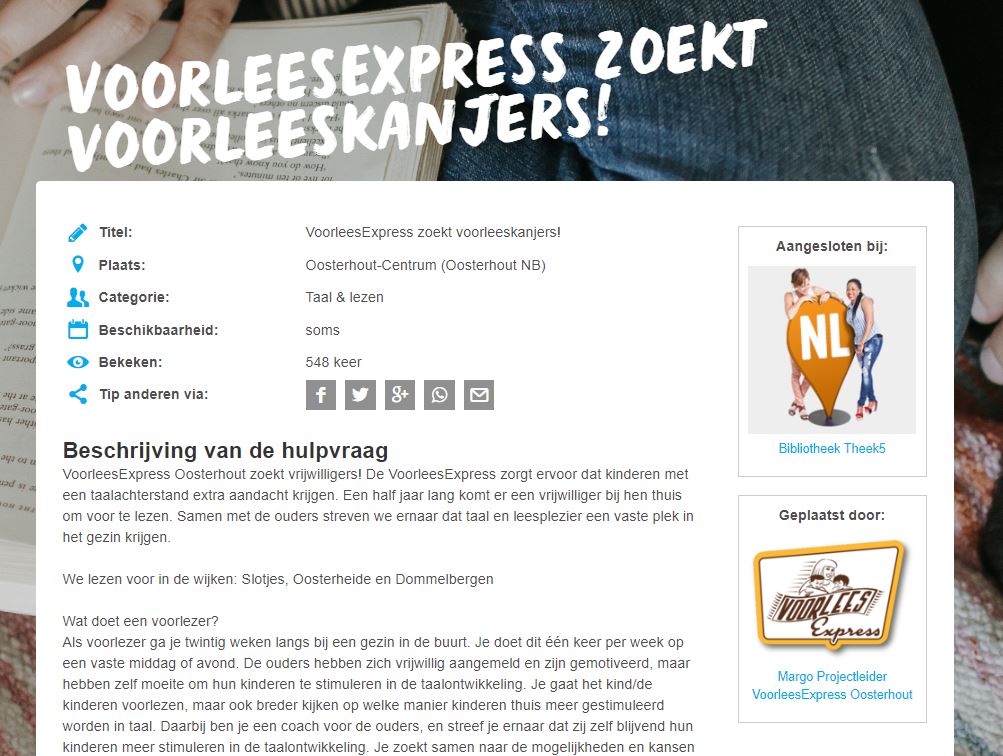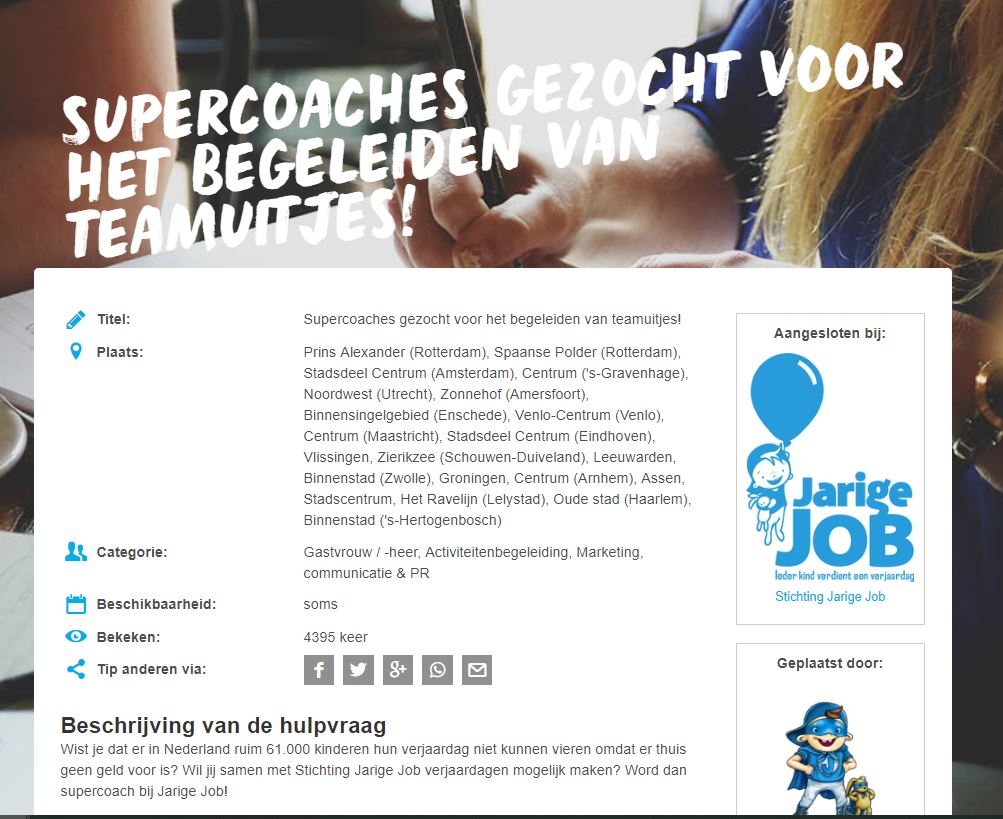 6. Benefits: what's in it for them?
Write your recruiting text with a volunteer's glasses on your nose. What's in it for them? Better yet – ask a current volunteer. It immediately becomes more credible, because the WCeend team always thinks WCeend is the best and most fun.
Make sure that you match the volunteer you are looking for with your language, sentence structure and offer. Describe/question/think/Google what the benefits of your volunteer work are. Is walking with your elderly an impressive mindful experience? Do you have the best coffee? The coziest team? Or do you regularly lie about the tall tales or wanton actions of your elders? Wear what you are proud of!
7. Requirements instead of asking nicely
Job requirements is a word that belongs to regular job openings – and even evokes 90's nostalgia in recruiters. And yet it is currently used in 21% of volunteer vacancies (4,130 pieces!). But the term 'volunteers' actually says enough. Requirements do not belong here.
Then what? We challenge you to rethink: for example, go from ice cream to ice cream… literally! That thought resulted in 163 new volunteers for 1 vacancy. Ben&Jerry's really provided ice cream in this case, so it's a bit of cheating of course. But consider the talent that every person has and the time he/she makes available to you for free. See if it clicks with someone and what makes that person happy. You can probably find a creative place for that. And if not, your interlocutor may know someone else. Via via recruiting is still the most successful way of recruiting.
Keep it short. Who has the time and inclination to go through an entire A4 with job descriptions, VOGs (what? hello jargon!), compensation structures (only necessary to know that it is there or not), volunteer contracts (ie obligation!) or rosters? Vacancy texts are a kind of elevator pitch: you have to be able to make someone very enthusiastic within a minute. This also means that it should not be too short, it is difficult to get enthusiastic about something vague or unclear.
Once you have contact with each other, there is plenty of time to discuss preconditions and substantive matters. Think of applying for a job: you only discuss things like that when you've got acquainted and it clicks!
9. Non-binding and accessible
Whatever wonderfully good person you are, would you like to commit your free time to an unknown person, for an unknown purpose and with unknown results for the coming year?
Not me. So make it easy to start doing something good. Of course you want a volunteer who is there for 4 hours every week (or even more). But such a commitment has to grow. You have to like each other, both enjoy it. So also offers introductory activities.
This can be very practical: an activity in which you can always have extra people join you in addition to your current volunteers. Or organize a meetup once a month where you can speed dating with other volunteers and the coordinator. And think about a suitable moment because Tuesday morning might be easy for you, for 60% of people that is the busiest day of the week ;-).
Organizing differently also saves a lot of introductory meetings and is much more fun. Because that is one of the main reasons why people appear to be committed (eg research NLvoorelkaar 43% of volunteers want to get to know new people).
Finally, cherish and keep doing what works. Don't change to change. Cherish your volunteers. Share the good experiences with others (for example us) so that we can continue to learn from each other. And you might also like to experiment a bit creatively with one of the tips in this article. A little variety and diversity is always refreshing because if you do what you did, you get what you got.